Congratulations to the Professor of Soviet and Central Asian History at the Department of History, UCSB, Adrienne Edgar. Her new book Intermarriage and the Friendship of Peoples: Ethnic Mixing in Soviet Central Asia, is a co-winner of this year's Joseph Rothschild Prize in Nationalism and Ethnic Studies. This prize is awarded annually by the Association for the Study of Nationalities for an outstanding book published in the previous calendar year on Russia, Eastern Europe or Eurasia (including the Balkans, Central Europe, the Baltics, Ukraine, Belarus, Moldova, Central Asia, the Caucasus, Turkey, Afghanistan, and China) in which substantial attention is paid to questions of ethnicity and/or nationalism.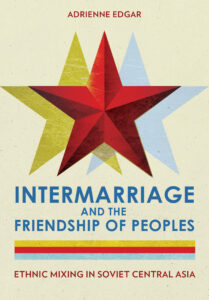 Intermarriage and the Friendship of Peoples is about the racialization of identities and its impact on mixed couples and families in the Soviet Union. The Soviet Union, unlike its rivals during the Cold War, encouraged mixed marriages among its diverse ethnic groups to solidify the image of 'unbreakable friendship' of peoples and of a single "Soviet people." Yet the official Soviet view of ethnic nationality became increasingly primordial and even racialized beginning in the 1960s, and in this context, Adrienne Edgar argues that mixed families and individuals found it impossible to transcend ethnicity, fully embrace their complex identities, and become simply "Soviet."
Ethnically mixed people sensed discrepancies between their "official" nationality in their identity documents and their subjective feelings of identity. They reported that they were unable to speak "their own" native language, and that their ambiguous physical appearance prevented them from claiming the nationality with which they most identified. The national and supranational projects in the Soviet Union, therefore, offered contested contexts in which these people navigated their mixed identities. 
A powerful book based on more than eighty in-depth oral history interviews with members of mixed families in Kazakhstan and Tajikistan, the book also uses published and unpublished Soviet documents, scholarly and popular articles from the Soviet press, memoirs and films, and interviews with Soviet-era sociologists and ethnographers, to reflect on the complexity of this terrain of identity and homogenizing politics in the Soviet Union.