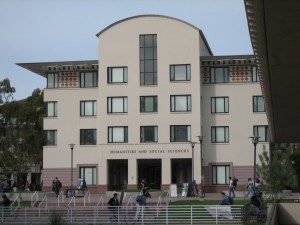 The Department of History is located in the Humanities and Social Sciences Building (HSSB) on the 3rd and 4th floors of the arcade wing (the wing extending towards the campus lagoon).
Our staff front office is located in the main tower of the building, on the 4th floor in HSSB 4001.
Mailing Address:
Department of History
University of California, Santa Barbara
Santa Barbara, California 93106-9410
Key Department Contacts
History Department Chair:
Stephan Miescher
HSSB 4213
miescher@ucsb.edu
805.893.2700
Staff Undergraduate Advisor: (who students should reach out to with questions)
Tiffany Lei
HSSB 4036
tlei@hfa.ucsb.edu
805.893.2992
Faculty Undergraduate Advisor:
Erika Rappaport
HSSB 4259
rappaport@history.ucsb.edu
Faculty Graduate Advisor:
Elizabeth Digeser
HSSB 4257
edigeser@ucsb.edu
History of Public Policy Advisor:
Giuliana Perrone
HSSB 4217
gperrone@ucsb.edu
Graduate Student Advisor:
Aidan Montgomery
HSSB 4030
amontgomery@hfa.ucsb.edu
805.893.2224
Staff
Staff for the Department of History is integrated into the HSSB Administrative Support Center (HASC).
Jump to:
---
Spot a problem?