UCSB History professors Verónica Castillo-Muñoz, Sherene Seikaly, and Sharon Farmer celebrate their new books with Chancellor Henry Yang.
Prof. Castillo-Muñoz has just published The Other California: Land, Identity and Politics on the Mexican Borderlands with the University of California Press.
Prof. Seikaly recently published Men of Capital: Scarcity and Economy in Mandate Palestine (Stanford University Press, 2016).
Prof. Farmer recently published The Silk Industries of Medieval Paris: Artisanal Migration, Technological  Innovation, and Gendered Experience (University of Pennsylvania Press, 2016)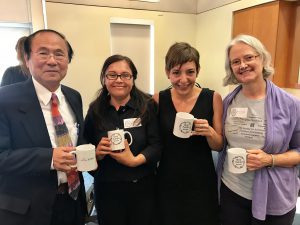 (l-r: Chancellor Yang, Prof. Castillo-Muñoz, Prof. Seikaly, Prof. Farmer).