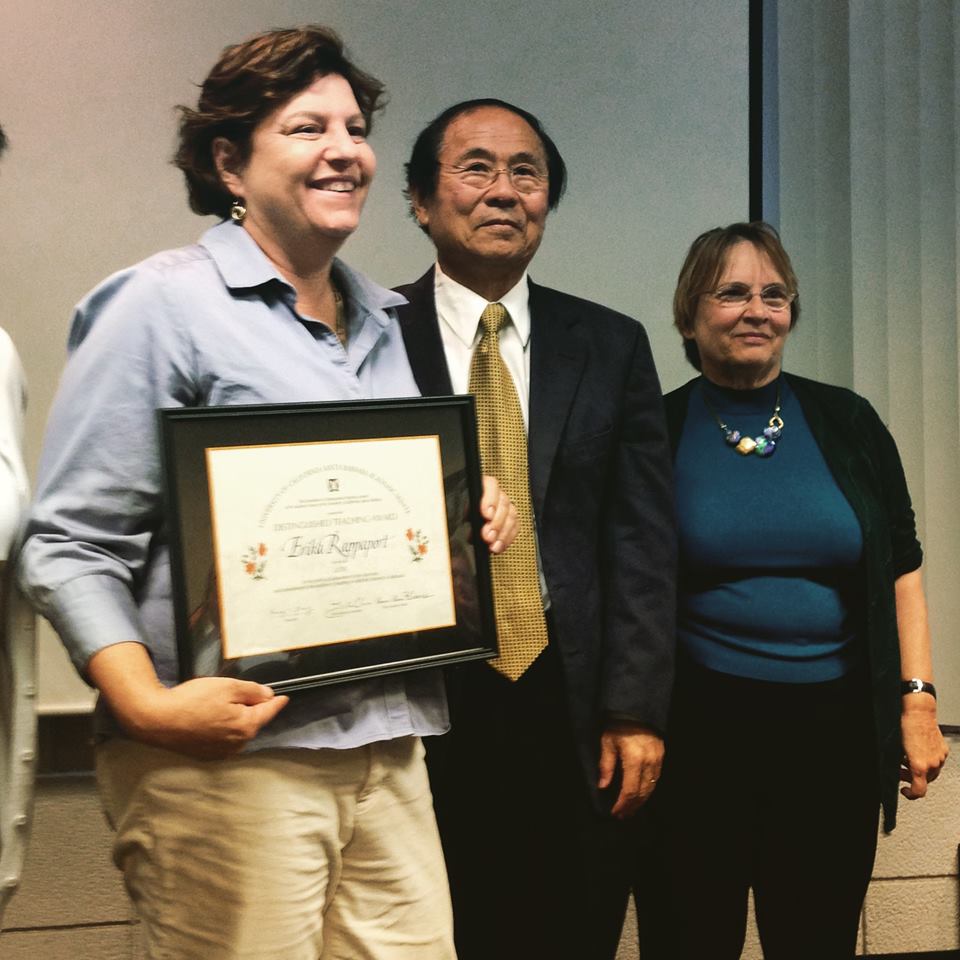 The following are the transcripts from the Academic Senate's recent awards ceremony during which Professor Erika Rappaport and Professor Salim Yaqub received their distinguished teaching awards.
Professor Rappaport joined the Department of History at UCSB in 1997, and teaches British and British Empire history. Her teaching philosophy is to "encourage students to take charge of their own education, to see themselves as researchers, and feel a part of a broader community of scholars." She takes an interdisciplinary approach to teaching, using sources from literature, popular culture, photography, visual arts, and written documents to create a transparent and collaborative classroom.
Professor Rappaport is a superb undergraduate instructor in large introductory classes, small upper division lectures, and undergraduate seminars, reflected in her student evaluations that are well above departmental norms. As the result of Professor Rappaport's mentorship, a former undergraduate student attests: "She helped me secure a grant to travel to London for archival research," which eventually led to her winning the Chancellor's Award for Excellence in Undergraduate Research and beginning a professional career in the United Kingdom.
At the graduate level, she has served on an impressive number of graduate committees in History and in other departments, devoting her time and expertise to mentoring students. One doctoral candidate writes: "Her support allowed me to embark a project about British Burma, a decision that changed my life. Over the past three years I have received numerous major fellowships, including a Foreign Language and Area Studies (FLAS) Fellowship to study Burmese, a yearlong Graduate Opportunity Fellowship from the University of California, a Mellon Fellowship from the Institute of Historical Research in London, departmental funding to research my project in Myanmar, and most recently, a yearlong Humanities Research Assistant Fellowship from the University of California…I can only hope to one day inspire students the way she has inspired me."
For her dedication and excellence in teaching, Professor Erika Rappaport is awarded a 2016 Academic Senate Distinguished Teaching Award. Congratulations!
Professor Yaqub joined the Department of History at UCSB in 2005 and has served as the Director of the Center for Cold War Studies and International History since 2008. He teaches upper division, lower division, and graduate courses that reflect his areas of specialization in U.S.-Middle East relations, the Cold War, U.S. foreign relations, the history of U.S. politics, public policy, culture, and political economy. On teaching philosophy, Professor Yaqub's overriding objective has been to "help students discover for themselves that studying history is an exciting and absorbing activity."
A former undergraduate student shares: "My own career as a historian was inspired by and is supremely indebted to Salim's instruction." With Professor Yaqub's advice and support, the student subsequently earned a doctoral degree from UC Irvine, received an Ernest May postdoctoral fellowship at the Belfer Center at Harvard University, and a postdoctoral fellowship offer at the Dickey Center at Darthmouth College.
Professor Yaqub is also described as "enthusiastic," and "humorous." An undergraduate student states: "Dr. Yaqub's passion for the subject helped me rediscover my own passion for history, and I eventually decided to declare history as a second major." A graduate student in the History Department speaks of Professor Yaqub's commitment to teaching: "wide array of topics reflected his priority to provide us with a comprehensive reading of the period rather than serve his own research interests."
Professor Yaqub maintains rigorous standards while keeping students engaged. In addition to his teaching load, he also supervises independent research projects, senior honors theses, public policy theses, and research assistantships.
For his passion and devotion in teaching, Professor Salim Yaqub is awarded a Distinguished Teaching Award. Congratulations!