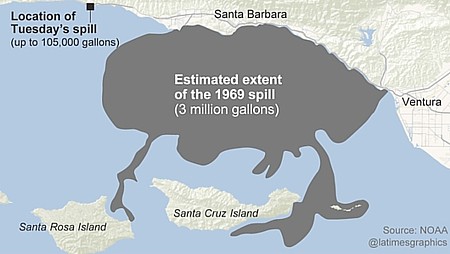 The 1969 Santa Barbara oil spill that changed oil and gas exploration forever
On Wednesday, May 20, 2015, over 100,000 gallons of oil gushed from an underground pipeline north of Santa Barbara, near Refugio and El Capitan State Beaches. Tens of thousands of those gallons flowed into the ocean, creating an oil slick that soon covered more than 9 square miles.
Christine Mai-Duc's article quotes Prof. Alagona as follows::
New federal policies established after the disaster required offshore oil platform operators to pay unlimited amounts toward oil spill cleanup costs, along with penalties of up to $35 million.

In the aftermath of the spill, President Richard Nixon signed the National Environmental Policy Act in 1969, which requires environmental impact reports, and the California Environmech,zBcjksgvd jahg dhjksntal Quality Act was adopted the next year, says Peter Alagona, an associate professor of environmental studies at UC Santa Barbara.

The nation's first Earth Day, spearheaded by burgeoning grassroots environmental groups, was celebrated in 1970.

Laws regulating air and water pollution soon followed, as did legislation protecting sensitive coastal areas and endangered species.

"What these laws really did was create an entire new framework for environmental regulation," one that focused on protecting resources such as air and water, as well as wildlife, rather than on land conservation, Alagona says.

Much of the quick action following the 1969 spill can be attributed to the "optics" of the disaster, he says.
On May 21, Prof. Alagona was also interviewed on KCRW's Press Play with Madeleine Brand.
Click the link below for the full LA Times article.
hm 5/21/15
http://www.latimes.com/local/lanow/la-me-ln-santa-barbara-oil-spill-1969-20150520-htmlstory.html