Anna Rudolph, "Queen Radegund and the Monarchy in Medieval Europe"
February 8, 2020 @ 2:00 pm

-

3:30 pm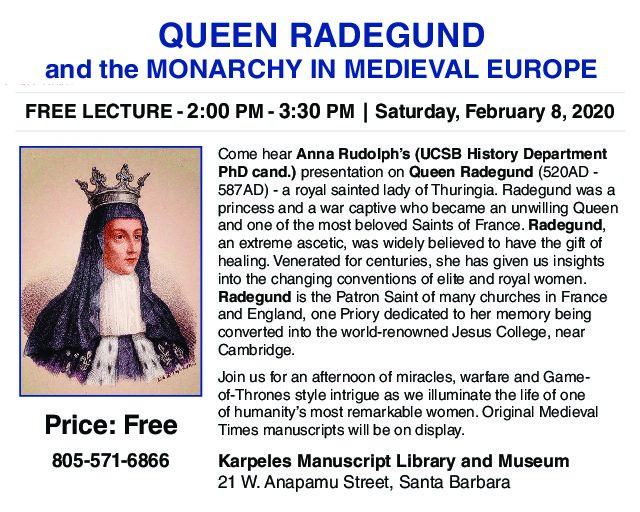 Come hear Anna Rudolph's presentation on Queen Radegund (520AD – 587AD) – a royal sainted lady of Thuringia. Radegund was a princess and a war captive who became the unwilling queen of the Frankish Kingdom and one of the most beloved Saints of France. Radegund, an extreme ascetic, was widely believed to have the gift of healing. Venerated for centuries, she has given us insights into the changing conventions of elite and royal women's spirituality. Radegund is the patron saint of many churches in France and England, with one priory dedicated to her memory
being converted into the world-renowned Jesus College, near Cambridge.
Join us for an afternoon of miracles, warfare and intrigue as we illuminate the life of one of history's most remarkable women.
Original Medieval manuscripts will be on display.
Related Events