History Associates to Feature "Electric" Presentation by Prof. Stephan Miescher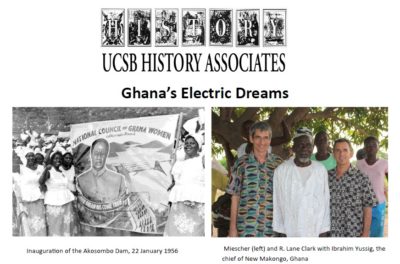 Click the link below to view the flier for this event.
History Associates will kick off the 2019-2020 year with a presentation by UCSB's Professor Stephan Miescher titled Ghana's Electric Dreams. It is based on his forthcoming monograph on the history of Ghana's most ambitious development project, the Volta River Project and the Akosombo Dam, and their importance for the process of nation-building. It will include the showing of part of a documentary film based on Miescher's research which was directed and edited by R. Lane Clark. The film visits sites affected by the dam and the broader vision of modernization that it represents.
Ghana's Electric Dreams will be presented at 4:00 on Saturday, October 5 at the Santa Barbara Public Library (Faulkner Gallery) at 40 E Anapamu Street. The event is free and open to the public, although donations to support History Associates are welcomed.
---