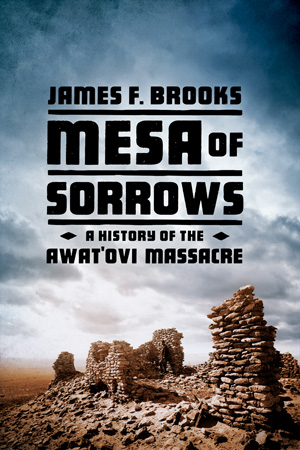 Awat'ovi Pueblo is among the loneliest of places I've walked. Once the most vibrant town in the ancient Puebloan Southwest, center of a vast exchange network of decorated pottery, maize, and cotton textiles, rich in ceremonial life and eastern gateway to the Hopi mesas, it now hosts little but the wind and sun.
Mesa of Sorrows: A History of the Awat'ovi Massacre tells a story of its rise and fall. One story, crafted from many. The destruction of Awat'ovi, at the hands of neighboring Hopi warriors, has troubled the minds of their Hopi kinsmen, Franciscan missionaries, archaeologists, historians, and ethnographers for more than 300 years. How could Hopis — the "Peaceful People" — lie at the heart of one of the most devastating stories in the greater Southwest?
I came to this story obliquely. I've lived off and on in New Mexico and the greater Southwest (by which I include my current residence, the Spanish colonial presidio and mission town of Santa Barbara, California) since 1973. Even before then, my mother cultivated a curiosity for Southwestern archaeology and history in me, in part due to the fact she had grown up a neighbor to the legendary archaeologist Earl Morris in Boulder, Colorado, where she formed a lifelong friendship with his daughter, archaeologist Elizabeth (Liz). Among the books featured on our shelves were Liz's mother Ann's Digging in the Southwest (1933) and Edgar Lee Hewett's Ancient Life in the American Southwest (1930). Family vacations involved road trips, sprawled unbuckled (seat belts?) in the back of our 1958 Chevy Impala wagon to places like Bandelier National Monument, Salinas Pueblo Missions National Monument, Chaco Canyon, and the Hopi mesas, which I first beheld in 1963. I recall wreaths of smoke from my father's Pall Malls, the scent of a warming can of Coors on the dashboard, a flash-flood at Chaco, drums, dancers, and piki bread at First Mesa — we must have visited during Home Dance, given the season.
Education and professorial appointments, thankfully, failed to stunt my fascination.
Until Mesa of Sorrows, my writing about the American Southwest focused on violence between peoples — the long centuries during which Indians and Spaniards crafted a "low intensity peace" by capturing, and absorbing, each other's women and children — as slaves, kinspeople, sometimes both. Captives and Cousins told that story.
Read more @ http://www.powells.com/post/original-essays/mesa-of-sorrows