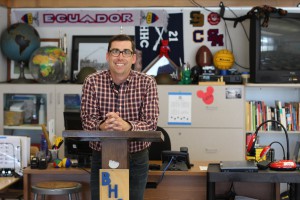 After graduating from UCSB, Emmet Cullen attended the Teaching Certificate Program at UCSB's Givertz Graduate School of Education. As he indicates here, his formal education constitutes only part of what makes him a gifted and committed high school teacher in the nearby Ventura County Unified School District.
Emmet's Thoughts…
"Leaving high school I opted for technical training as a deep sea diver at Santa Barbara City College rather than trying to attend a 4-year university.
After working as a diver for a few short years I enlisted in the U.S. Army following the terrorist attacks of 9-11, and served on the front lines of Iraq during 2004, 2005, 2006, and 2007. My time in Iraq exposed me to historic sites from the holy city of Nineveh to the battle grounds of Alexander the Great. At the same time I became interested in capturing the events of my own experiences serving as a sniper in Operation Iraqi Freedom, and developed a knack for photography.
Coming home from Iraq I had a lot of questions about my experience, and felt I lacked the ability to share my own experience in a meaningful, thoughtful way.
It was at UCSB that my life began to come into focus. One day, after I gave a PowerPoint presentation on the Marsh Arabs of Iraq, Professor Sharon Farmer, recommended that I consider becoming a teacher myself."
"The small bit of encouragement grew like a seed within me. As I sat and listened to my next professor, Salim Yaqub, lecture about Middle Eastern foreign politics I pictured myself behind the podium and it was a moving experience. My senior year at UCSB I applied to the Givertz Graduate School of Eduction, and the rest as they say, is history."
"So why do I love my job as a teacher? For starters, teaching is a rewarding job."
"As proud as I am of serving for our nation in combat, the real fighting that needs to be done is combating lethargic minds in the classroom."
After spending so much time in Iraq, and gaining such a great education at UCSB, teaching is a great platform to share my knowledge and passion and continue to serve the community in a meaningful way.  I continue to use my knowledge of welding working with industrial arts students on projects. I use my knowledge as a photographer in teaching lessons as well as covering events for the school. I am able to use my knowledge from the military to enrich map reading in teaching Geography. I feel that it is important to embrace the journey of life to a certain extent to develop a well-rounded perspective."
– Emmet Cullen