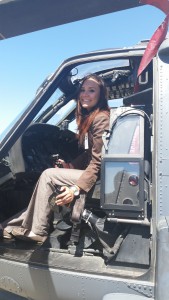 After graduating from UCSB in 2013 with a BA in the History of Public Policy, Angelica Quirarte held a position as an Executive Fellow at the Capital Fellows Program.
She has recently taken the role of Assistant Secretary for Digital Engagement at the California Government Operations Agency.
As on of the youngest government executives and a staff member for a member of Governor Brown's cabinet, she advises deputy secretaries on issues of innovation, management, open data, technology, process re-engineering, and human resources and meets with department directors from across the state to address urgent issues such water data management and government technology. She also meets with stakeholders and civic tech companies on their concerns on government inefficiencies, and with legislators and their staff on proposed legislation.
Highlights of her job include briefing the Agency Secretary on whether the Governor should sign or veto a bill; developing revenue-neutral strategies for creating new state efforts; managing California's civil service improvement efforts; and leading the open data and digital service efforts at the state level.
According to Angelica, "Being a history major has given me a perspective that allows me to thrive in a changing government."