Critical Theory in Dark Times: 
The Prospects for Liberation in the Shadow of the Radical Right
---
Schedule of Panels and Conference Events
The conference program is available online as a regularly updated google doc (last updated Friday Oct. 11, 3pm). And here is a pdf made from that doc: IHMS Conference Program

Post-Conference Announcements
Thanks to all participants for a stimulating conference!
Provisionally we will post here papers and links to conference materials that are sent to us:
Travel Information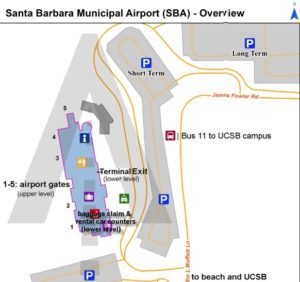 If traveling by air, you can fly into either the Santa Barbara Airport (SBA) or the Los Angeles International Airport (LAX)
Santa Barbara Airport
This airport is small and very convenient–you can see the UCSB campus from it. It is low-key, with short security lines, and thus usually preferred by locals over LAX. Public buses serve the UCSB campus and hotel ($1.75 per ride). Visit https://sbmtd.gov/ for bus schedules (

Line 11

goes from the airport [key stop G, right out front across the parking lot, direction toward the ocean] to UCSB [stop H, North Hall bus loop, 3 min. ride]. This stop is the second circle loop the bus makes, not the one right at the entrance to campus. It is labeled "bus loop" just to the left of center at the top edge of the campus venue map below.)
BTW,

Line 7

serves the South Coast Inn (key stop F) and connects to downtown–from the airport you would take line 11 towards the mountains/downtown, get off at Hollister & Pine, walk across the street, and catch the 7 westbound over the 101 freeway and get off at Calle Real and Kellogg. Both buses run about every half-hour.
The airport is in between and equidistant from the South Coast Inn and the UCSB campus–about one mile from each as the crow flies. By the way,

line 24X

is an express connection from UCSB to downtown Santa Barbara, should you want to "see the town." The 10-mile ride takes about 20 minutes.


Click to enlarge

Uber, Lyft, and taxis are also available at the airport. Uber and Lyft cost about $9; taxis about $15–the same to the South Coast Inn as to UCSB.

Los Angeles International Airport
Santa Barbara Airbus is the best way to get from LAX to Santa Barbara/Goleta (and back). Trips cost $49 one way, $94 round trip. These buses stop at the islands outside the baggage claims in LAX (but not in front of the Bradley International Terminal). Trips to SB every 1.5-2.5 hours from 8am to 10pm, and it takes about 2.5 hours to the Goleta Airbus Terminal (not far from the SB airport).
Visit https://www.sbairbus.com/

for schedules and to book.


The South Coast Inn provides a free shuttle, or ask the bus driver to have a taxi meet you at the Goleta stop upon request. (Taxi fare from the Goleta Airbus Terminal to the South Coast Inn [or UCSB] should be about $15.)
New 9/25: For the South Coast Shuttle call the hotel when you arrive at the Goleta terminal: 805-967-3200. Their van leaves the hotel on the half-hour during daytime hours. (E.g. call at 4:45pm, van leaves hotel at 5pm, pick up around 5:10. Same with airport drop-off for your departure.)
Oct 6: you might also look into a one-day, one-way rental car from LAX to SBA. The cost can be as low as $67 plus gas (and insurance if you need it), competitive with the $49 or 55 price of the airbus.
You can also reach Santa Barbara by train. Amtrak's Pacific Surfliner goes from LA Union Station to Santa Barbara and Goleta: http://www.pacificsurfliner.com/. Trains aren't that frequent, departing LA at 9:11am, 11:48am, 3:06pm, 7:16pm–but check the schedule. Trains take about 2 3/4 hours to get to the Goleta depot. Note: LA Union Station is being renovated, so you may have to switch from a bus to a train at some point.
Conference Lodging Information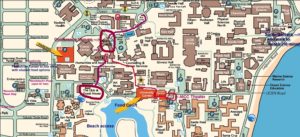 The Club & Guest House (UCSB campus; front desk phone 805.893.7000; press 4)
9/2/2019: all rooms reserved at the conference rate at this hotel have been booked.
$199 per night (includes two continental breakfast vouchers per day)
Parking permits (if you have your own car, of course) are available for purchase at $8/day on weekdays, and $4 per day on weekends. There are permit dispensers in all lots and parking structures. (Parking services website)
Best Western South Coast Inn (5620 Calle Real; Goleta, CA 93117)
[note 9/17/19: the conference rate has expired; rooms are now $220/night or more]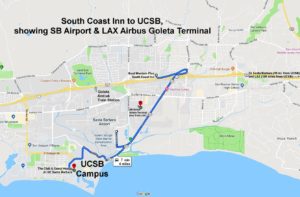 $139 per night Sunday-Thursday; $159 per night Friday & Saturday (includes hot breakfast buffet)
After September 16th, 2019 rooms and rates will be based on availability.
Book using this link: https://www.bestwestern.com/en_US/book/hotel-rooms.05521.html
OR call 805-967-3200.
Shuttles are provided by the hotel for pick-up at the Santa Barbara Airport, Goleta Airbus terminal, and Goleta Amtrak station (the Goleta depot stop is much closer to UCSB than the Santa Barbara station).
The Conference will be providing a shuttle to and from this hotel each day of the conference at pre-arranged times in the morning and evening.
Booking after Sept. 16, 2019?
The Super 8 Wyndham, Goleta may have rooms available for ca. $150. It is conveniently located a short bus ride (really walking distance) from the airport, and from UCSB. Our vans will be able to drop off at this location, if requested.
Informal Lodging Options
A UCSB graduate student conference participant who is on the board of a student coop network has offered to organize a dozen or so "couches" in communal housing.
If you are interested, please let marcuse@ucsb.edu know.
Just so you know: this housing is in Isla Vista, which is noted for its party life on Friday and Saturday nights (til midnight curfew). Still, these houses are walking distance to campus and close to the "IV" amenities.
Those graduate students who have requested funding assistance have been placed on a list of potentials for this housing. We will contact you separately.
We are also asking graduate students and faculty from various departments whether they can open their apartments.
Last not least, you might take your chances with https://www.couchsurfing.com/about/how-it-works/.
Registration Fee
The fee helps to defray conference costs. It will be payable in US dollars at the conference registration (cash, or check made out to International Herbert Marcuse Society).
Assistance is available upon request–please send your justification to: marcuse@ucsb.edu.
$80 regular
$35 reduced (graduate students, independent scholars)
"Liberation over Lunch" discussions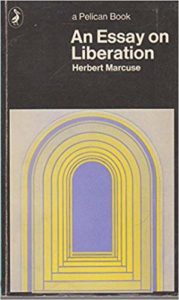 Thursday evening between the two panels, and Friday and Saturday during the lunch breaks there will be an informal discussion group focused on a reading of Marcuse's Essay on Liberation (1969; 91 pages: Intro; pts. I & II; pts. III & IV).
Please see this Liberation over Lunch program for more information, a link to the text of Essay on Liberation, and to rsvp The full text as a 30-page pdf for printing: Essay on Liberation
The Thursday room location will be announced soon (sandwiches and beverages provided);
Friday 11:30-1 and Sat 11:45-1:15 in the MultiCultural Center (MCC) lounge, just east adjacent to the UCen.
Where to Eat, Drink and Enjoy in Goleta and Santa Barbara
Here is a list and map of recommended amenities in the area.