Personal Statement:
I examine the systems of social dependency, cultural exchanges, and military rivalries that took place between Russia, the Ottoman Empire, and Iran in the Caucasus. My dissertation project examines the institutions of slavery, the slave trade, and abolition in the Caucasus region and its environs from 1801 through 1917. My work will provide the first comprehensive account of the abolition of slavery in the Caucasus under the Russian imperial control and put the findings of my research in conversation with historiography on slavery and asymmetrical dependency in the Middle East and Central Asia. In addition, I am keenly interested in modern Russian history and questions of security, especially in relation to the countries of the former Soviet Union. 
Dissertation Title:
Reluctant Abolitionists: Slavery, the Slave Trade & Abolition in the Nineteenth-Century Caucasus (1801-1913)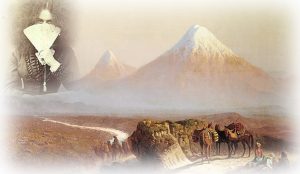 Selected Publications:
"With the Tsar's Imprimatur: The Sale Deed of a Circassian Slave, 1864," in Russian-Arab Worlds: A Documentary History, ed. Eileen Kane, Masha Kirasirova, Margaret Litvin (Oxford University Press, forthcoming 2022).
"Of Leeches and Men: The South Caucasus in the Global Trade in Medicinal Leeches in the Nineteenth Century." All the Russias' Blog, NYU Jordan Center for the Advanced Study of Russia. January 2022.
Review of Amanda Brickell Bellows, American Slavery and Russian Serfdom in the Post emancipation Imagination. H-Russia, H-Net Reviews. July 2021.
"38 Years a Slave: The Narrative of Joseph & Transnational Slavery in the Caucasus," Peripheral Histories?, March 2021.
Sergey Salushchev and Kali Yamboliev, "Unfortunately, Some Mistake Were Made": Joseph Stalin and Public History in Post-Independence Georgia," The Public Historian 42, no. 3 (2020): 33-60.
"Authenticity, Identity and Hegemony in the Context of Global Governance." Perspectives on Global Development and Technology 13, no. 1-2 (2014): 281–295. 
Teaching Fields:
Russian Empire / Soviet Union / Modern Russia
Modern Europe
Modern Middle East
Courses Taught:
Instructor of Record / Lecturer:
Summer 2019 – 2021 – History 135 B – History of the Russian Empire (1801-1917)
Winter 2020 – History 135 C – History of the Soviet Union and Modern Russia (1917-2014)
Graduate Teaching Assistant:

Summer 2017 – History 2C World History – 1700 – Present
Spring 2017 – History 4C – Western Civilization
Winter 2017 – History 8 Introduction to History of Latin America

Fall 2016 – History 46 Modern Middle East Spring

 2016 – Global Studies 1
Winter 2016 – History 2B World History 1000CE – 1700CE
Fall 2015 – History 88 History of South Asia
Spring 2015 – History 4C Western Civilization
Winter 2015 – History 2A World History – Prehistory to 1000 CE
Fall 2014 – History 2C World History – 1700 – Present
Spring 2014 – Black Studies 1 Introduction to African American Studies
Winter 2014 – Black Studies 6 The Civil Rights Movement
Spring 2013 – Global 120 Global Ideologies & World Order
Winter 2013 – Black Studies 4 Critical Introduction to Race & Racism
Fall 2012 – Global 120 Global Ideologies & World Order
Awards & Professional Activities:
UCSB Center for Middle Eastern Studies Research Fellow (2021-2022)
The Seventh Annual Van Gelderen Graduate Student Lecture Award (2020)
UCSB Graduate Division Dissertation Writing Fellowship (2019-2020)
American Councils Title VIII – Research Scholar Fellowship (2018 – 2019)
Fulbright Fellowship (2018-2019) Alternate
Fulbright Fellowship (2017-2018) Finalist
Association for Slavic, East European & Eurasian Studies – Dissertation Research Grant (2017)
UCSB Regent's Dissertation Research Fellowship (2017 – 2018)