Personal Statement:
I am a professor in the History Department at the University of California, Santa Barbara where I research, write, and teach about the histories of technology and science.
My personal (non-UCSB) web page is here…
I am not currently accepting new graduate students. 
Advisor to:
Research and Teaching Interests:
Technology and science after 1945 (primarily US)
"Emerging" technologies
The intersections of art, technology, and science
Technological communities
Current Projects:
I have a new book titled Making Art Work (The MIT Press, 2020); it looks at art-technology collaborations during the 1960s-90s with the focus being the activities and experiences of the engineers and scientists who paired up with artists. Connected to this, I have a courtesy appointment with UCSB's Media Arts and Technology program. I am also involved with several projects associated with the Getty Research Institute's new Pacific Standard Time initiative which is focused on art and science.
I like to connect my historical research to contemporary issues associated with technology and science, including debates about the "future of work," automation, and predictions of a "4th Industrial Revolution." As part of this work, I have a new project called "READ-ME" (under contract with The MIT Press) in which I explore a series of popular books about computing. In other words, how did computing become known to the general public as computers transformed from "giant brains" to "everything machines"?
Finally, I maintain an interest in a number of topics including: science and technology in the Cold War; how scientists adopted new technologies including computers and data handling; the history of "emerging technologies"; and the broader intersection of technology, science, and popular culture in the 1960s and 1970s.
Selected Publications:
Books:
Making Art Work: How Cold War Engineers and Artists Forged a New Creative Culture is coming out in 2020 with The MIT Press). It explores collaborations between engineers and artists from the 1960s onward. It shows how the categories of art and technology (and artist vs. engineer) have blurred, changed, and transformed over the past half-century. Some reviews of Making Art Work are here, here, and here.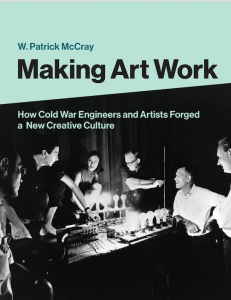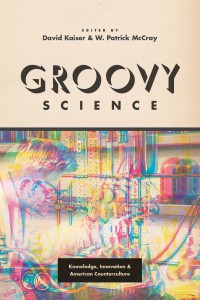 Selected Articles:
"Art Out of Order: Jack Burnham, the 1970 'Software' Show, and the Aesthetics of Information Systems," forthcoming in Technology and Culture. 
"When Artists, Engineers, and Pepsi Collaborated, Then Clashed at the 1970 World's Fair," IEEE Spectrum, March 2020. 
"Fallout and Spinoff: Commercializing the Art-Technology Nexus," in Hybrid Practices: Art in Collaboration with Science and Technology in the Long 1960s, David Cateforis, et al., eds. (Berkeley: University of California Press, 2018), 61-78; this essay describes some of the intellectual property that engineer-artist collaborations produced.
"The Biggest Data of All: Making and Sharing a Digital Universe," in Data Histories, volume 32 of Osiris (2017): 243-263; continues story of astronomers' interaction with Big Data.
"Gravity and Geese," Leonardo, 2017. Looks at German artist Agnes Meyer-Brandis & her connections to a 17th century science fiction story.
"How Astronomers Digitized the Sky," Technology and Culture 55, 4 (2014): 908-944. The title says it all…
"'Globalization with Hardware'": ITER's Fusion of Technology, Policy, and Politics," History and Technology, 26, 4 (2010): 281-310. Fusion scientists in Europe created a transnational research community as they planned their "next big machine."
"From Lab to iPod: A Story of Discovery and Commercialization in the Post-Cold War Era," Technology and Culture, 50, 1 (2009): 58-81. How did a physics discovery made in 1988 end up in your iPod?
"Amateur Scientists, the International Geophysical Year, and the Ambitions of Fred Whipple." Isis 97, 4 (2006): 634-658.
Tells of the hurdles astronomer Fred Whipple overcame to persuade his colleagues that amateurs could contribute to the IGY.
"Will Small Be Beautiful? Making Policies for Our Nanotech Future." History and Technology 21, 2 (2005): 177-203.
This essay lays out the basic path for how the U.S. government decided to spend billions on nanotech research.
A full list of my publications and other research activities can be found on my c.v.
Courses Taught:
My research informs my teaching. I offer a variety of undergraduate and graduate courses including:
Science and the Modern World (History 20)
Technology and the Modern World (History 22)
The Atomic Age (History 105A)
Histories of Information and Computing (106C)
Machines, People, and Politics: Histories of Modern Technologies (History 109T)
In addition, I teach some more specialized small-enrollment undergraduate courses as well as graduate readings and research seminars.
Honors and Professional Activities:
Distinguished Fellow, 2018-2019, Lemelson Center for Invention and Innovation, National Museum of American History, Smithsonian Institution.
Co-PI on grant from Canadian Institute for Advanced Research for 2018 workshop exploring societal dimensions of the "4th Industrial Revolution."
Lindbergh Chair, 2015-16, National Air and Space Museum, Smithsonian Institution.
2014 Watson Davis and Helen Miles Davis Prize, History of Science Society for The Visioneers as best book that "promotes public understanding of the history of science."
Elected a Fellow of the American Association for the Advancement of Science (2011) and American Physical Society (2013)
Eleanor Searle Visiting Professor, History of Science, California Institute of Technology, 2011-12.
Collaborative Research Fellowship (2010-2011) from the American Council of Learned Societies.
Senior Research Fellow, Institut Méditerranéen de Recherches Avancées; 2010.
Co-Principal Investigator for UCSB's Center for Nanotechnology in Society. The CNS was a ten year, multi-million dollar initiative (2016-2016) funded by the National Science Foundation that supported interdisciplinary research on emerging technologies. My working group's final report is here.
I am currently on the editorial boards of Isis and Technology and Culture. 
In the News