Advisor to:
Selected Publications: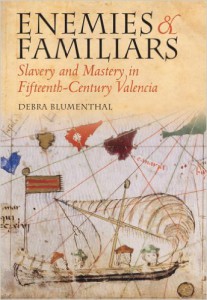 Enemies and Familiars: Slavery and Mastery in Fifteenth-Century Valencia (Ithaca, NY: Cornell University Press, 2009).  *Winner of the 2011 Premio del Rey, American Historical Association; *Honorable Mention, 2010 Best Book Prize, Society for Medieval Feminist Scholarship.
"Domestic medicine: slaves, servants, and female medical expertise in late medieval Valencia" in Renaissance Studies volume 28, issue 4 (September, 2014).  *Winner of the Best Essay Prize given annually by the Society for Renaissance Studies.
"Masters, Slave Women, and their children: A child custody dispute in 15th century Valencia" in Mediterranean Slavery Revisited (500-1800) – Neue Perspektiven auf mediterrane Sklaverei (500–1800), Stefan Hans and Juliane Schiel, eds. (Chronos, 2014).
"'With My Daughter's Milk': Wet Nurses and the Rhetoric of Lactation in Fifteenth-Century Valencian Court Records" in Medieval and Renaissance Lactations. Images, Rhetorics and Practices, edited by Jutta Gisela Sperling (Ashgate, 2013).
"La Casa dels Negres: Black African solidarity in late-medieval Valencia"in Black Africans in Renaissance Europe, edited by K.P. Lowe and Thomas Earl (Cambridge: Cambridge University Press, 2005).
"Demandes de libertat: Demandas de esclavos en el medievo tardío valenciano" in Debates y Perspectivas  (Madrid, 2004).
"Defending their Masters' Honour: Slaves as Violent Offenders in Fifteenth-Century Valencia"in A Great Effusion of Blood?: Interpreting Medieval Violence, edited by Mark Meyerson, Oren Falk, and Daniel Thierry (Toronto: University of Toronto, 2004).
"Sclaves molt fortes, senyors invalts: Sex, lies, and paternity suits in late medieval Spain" in Women, Texts and Authority in the Early Modern Spanish World, edited by Marta Vicente and Luis Corteguera (Aldershot, England: Ashgate Press, 2003).
Honors and Professional Activities:
Sargent-Faull Fellow, Radcliffe Institute for Advanced Study (2003-2004)
National Endowment for the Humanities, Summer Stipend (2003)
NEH Summer Seminar: "Disease in the Middle Ages" at the Wellcome Trust Centre for the History of Medicine at University College London, UK (2009)
Evelyn S. Nation and Elizabeth Crahan Fellow at the Huntington Library (2010-2011)
2011 Premio del Rey, American Historical Association
Award given biennially to the best book on Spain's early history and culture, 500-1516 A.D., published in the last two years.
2014 Best Essay Prize, Society for Renaissance Studies
Award given annually for the best essay published in Renaissance Studies.