Miroslava Chávez-García, "Migrant Longing"
January 10, 2021 @ 4:00 pm
Free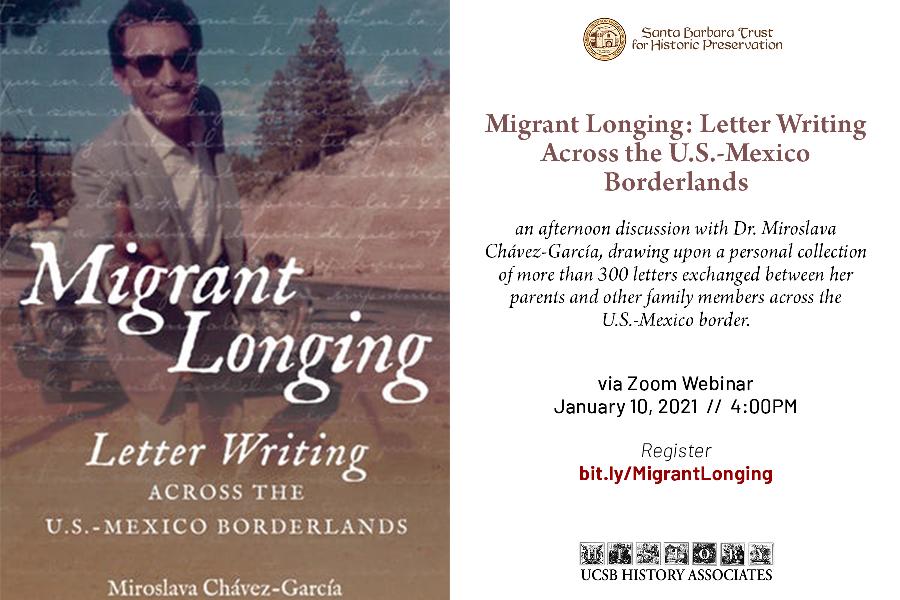 UCSB History Associates has partnered with the Santa Barbara Trust for Historic Preservation to present a public lecture by UCSB Professor of History Miroslava Chávez-García. 
Drawing upon a personal collection of more than 300 letters exchanged between her parents and other family members across the U.S.-Mexico border, Professor Chávez-García recreates and gives meaning to the hope, fear, and longing migrants experienced in their everyday lives both "here" and "there" (aqui y alla). As private sources of communication hidden from public consumption and historical research, the letters provide a rare glimpse into the deeply emotional, personal, and social lives of ordinary Mexican men and women as recorded in their immediate, firsthand accounts. Chávez-García demonstrates not only how migrants struggled to maintain their sense of humanity in el norte but also how those remaining at home made sense of their changing identities in response to the loss of loved ones who sometimes left for weeks, months, or years at a time, or simply never returned.
Please register for this Zoom event in advance at this link. To download the event flyer, click here.
Related Events