Lily Anne Welty Tamai, "Mixed-Race Black Identities in Postwar Japan and Okinawa"
May 19, 2021 @ 4:00 pm

-

5:30 pm

Free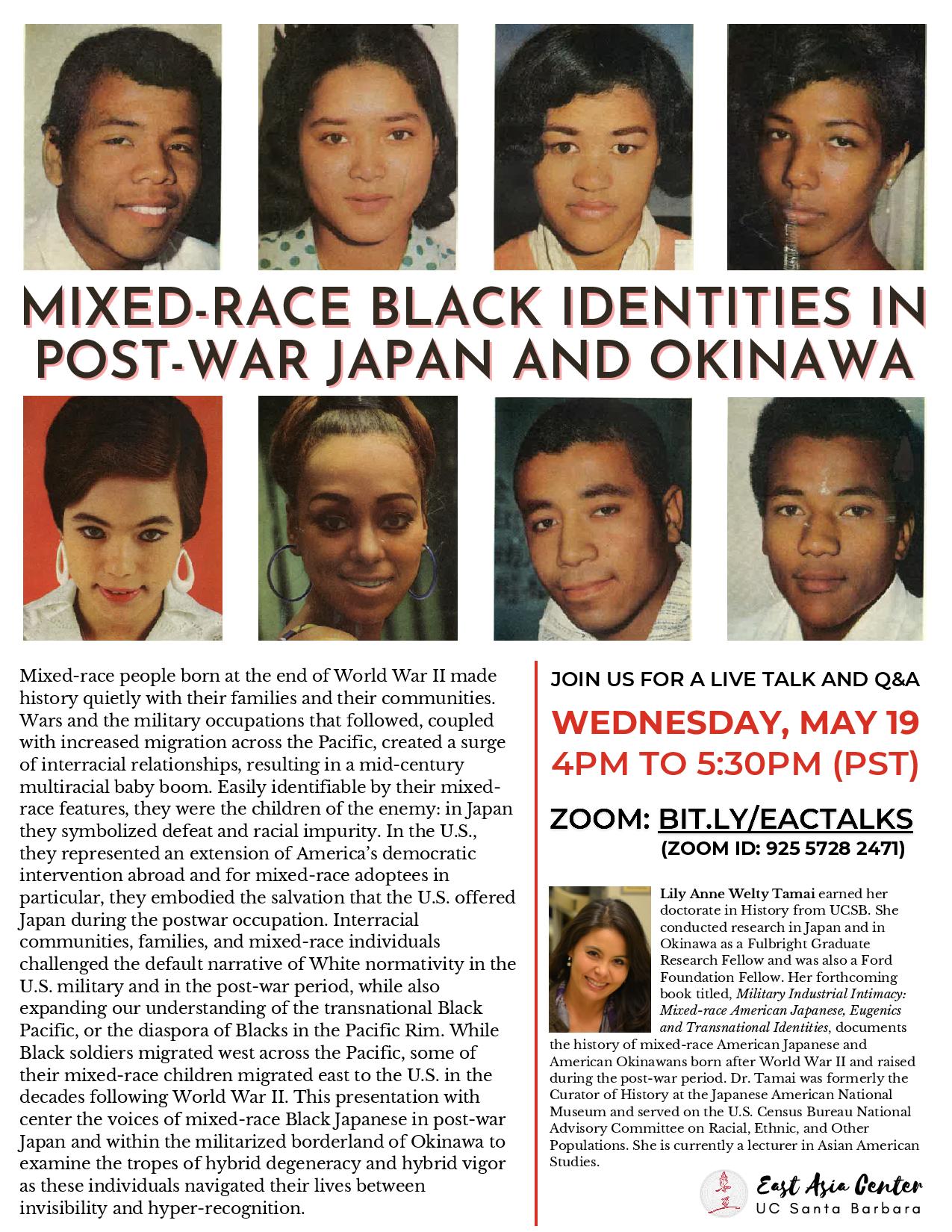 The East Asia Center welcomes UCSB History alumna Dr. Lily Anne Welty Tamai (Asian American Studies, UCLA) for a talk on "Mixed-Race Black Identities in Postwar Japan and Okinawa."
Mixed-race people born at the end of World War II made history quietly with their families and their communities. Wars and the military occupations that followed, coupled with increased migration across the Pacific, created a surge of interracial relationships, resulting in a mid-century multiracial baby boom. Easily identifiable by their mixed-race features, they were the children of the enemy: in Japan they symbolized defeat and racial impurity. In the U.S., they represented an extension of America's democratic intervention abroad and for mixed-race adoptees in particular, they embodied the salvation that the U.S. offered Japan during the postwar occupation. Interracial
communities, families, and mixed-race individuals challenged the default narrative of White normativity in the U.S. military and in the post-war period, while also expanding our understanding of the transnational Black Pacific, or the diaspora of Blacks in the Pacific Rim. While Black soldiers migrated west across the Pacific, some of their mixed-race children migrated east to the U.S. in the
decades following World War II. This presentation with center the voices of mixed-race Black Japanese in post-war Japan and within the militarized borderland of Okinawa to examine the tropes of hybrid degeneracy and hybrid vigor as these individuals navigated their lives between
invisibility and hyper-recognition.
Lily Anne Welty Tamai earned her doctorate in History from UCSB. She conducted research in Japan and in Okinawa as a Fulbright Graduate Research Fellow and was also a Ford
Foundation Fellow. Her forthcoming book, titled Military Industrial Intimacy: Mixed-Race American Japanese, Eugenics and Transnational Identities, documents the history of mixed-race American Japanese and American Okinawans born after World War II and raised during the post-war period. Dr. Tamai was formerly the Curator of History at the Japanese American National Museum and served on the U.S. Census Bureau National Advisory Committee on Racial, Ethnic, and Other
Populations. She is currently a lecturer in Asian American Studies at UCLA.
To join the Zoom meeting, use Zoom ID 925 5728 2471.
Related Events