Job Talk: Taylor M. Moore's "Amulet Tales: Political and Spiritual Economies of Healing in Egypt"
January 13, 2021 @ 11:30 am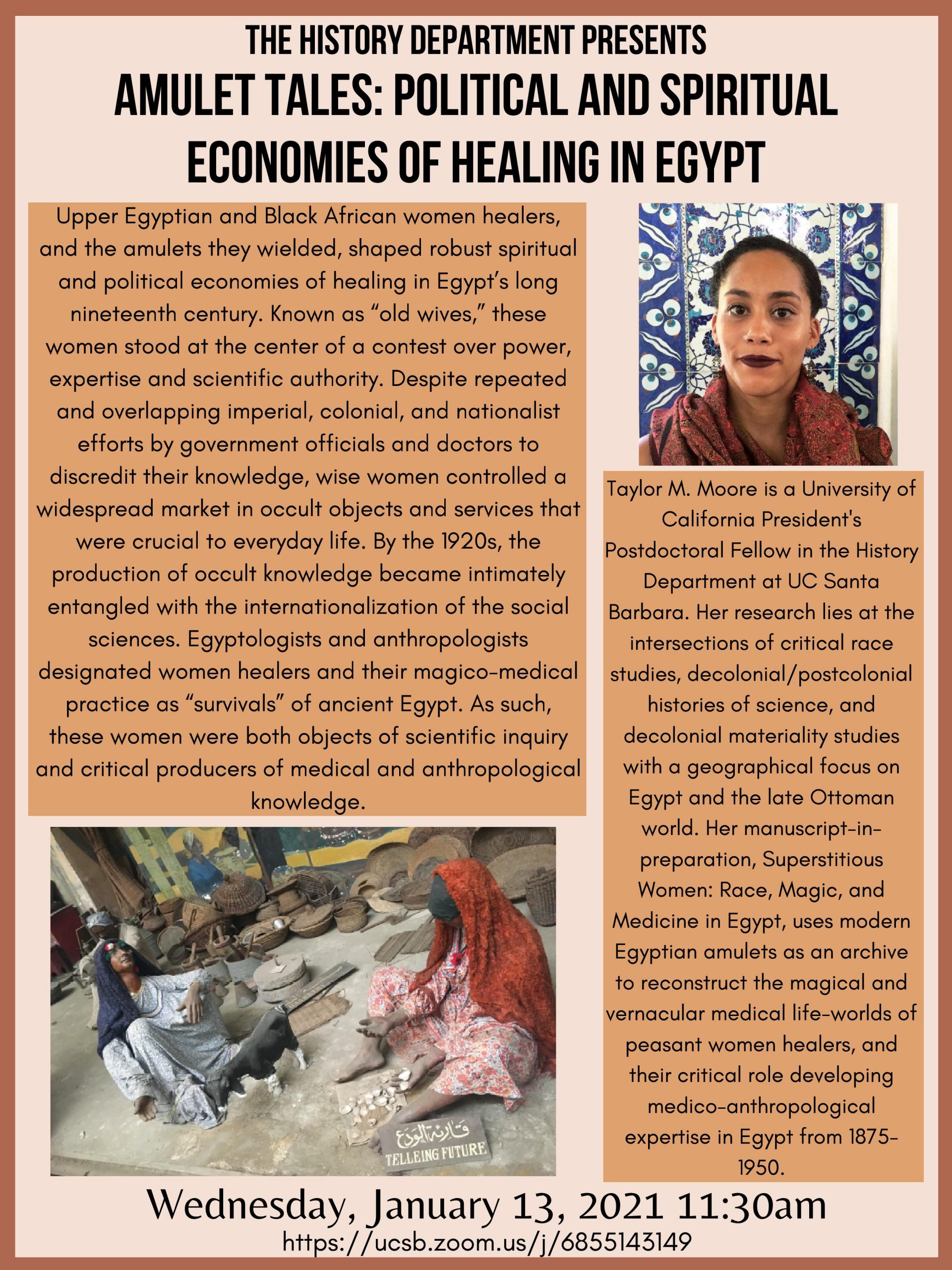 The History Department invites all to a job talk by Dr. Taylor M. Moore on January 13, 2021.
Dr. Moore is a University of California President's Postdoctoral Fellow in the History Department at UC Santa Barbara. Her research lies at the intersections of critical race studies, decolonial/postcolonial histories of science, and decolonial materiality studies with a geographical focus on Egypt and the late Ottoman world. Her manuscript-in-preparation, Superstitious Women: Race, Magic, and Medicine in Egypt, uses modern Egyptian amulets as an archive to reconstruct the magical and vernacular medical life-worlds of peasant women healers, and their critical role developing medico-anthropological expertise in Egypt from 1875-1950.
Upper Egyptian and Black African women healers, and the amulets they wielded, shaped robust spiritual and political economies of healing in Egypt's long nineteenth century. Known as "old wives," these women stood at the center of a contest over power, expertise and scientific authority. Despite repeated and overlapping imperial, colonial, and nationalist efforts by government officials and doctors to discredit their knowledge, wise women controlled a widespread market in occult objects and services that were crucial to everyday life. By the 1920s, the production of occult knowledge became intimately entangled with the internationalization of the social sciences. Egyptologists and anthropologists designated women healers and their magico-medical practice as
"survivals" of ancient Egypt. As such, these women were both objects of scientific inquiry and critical producers of medical and anthropological knowledge.
Dr. Moore's job talk will take place on Zoom at this link. To download the flyer for this event, click here.