Graduate Student Colloquium: Isabella Gabrovsky on "Rethinking Britain" and Mario Tumen on "Decolonization of Taxation in Peru"
May 26, 2017 @ 3:00 pm

-

5:30 pm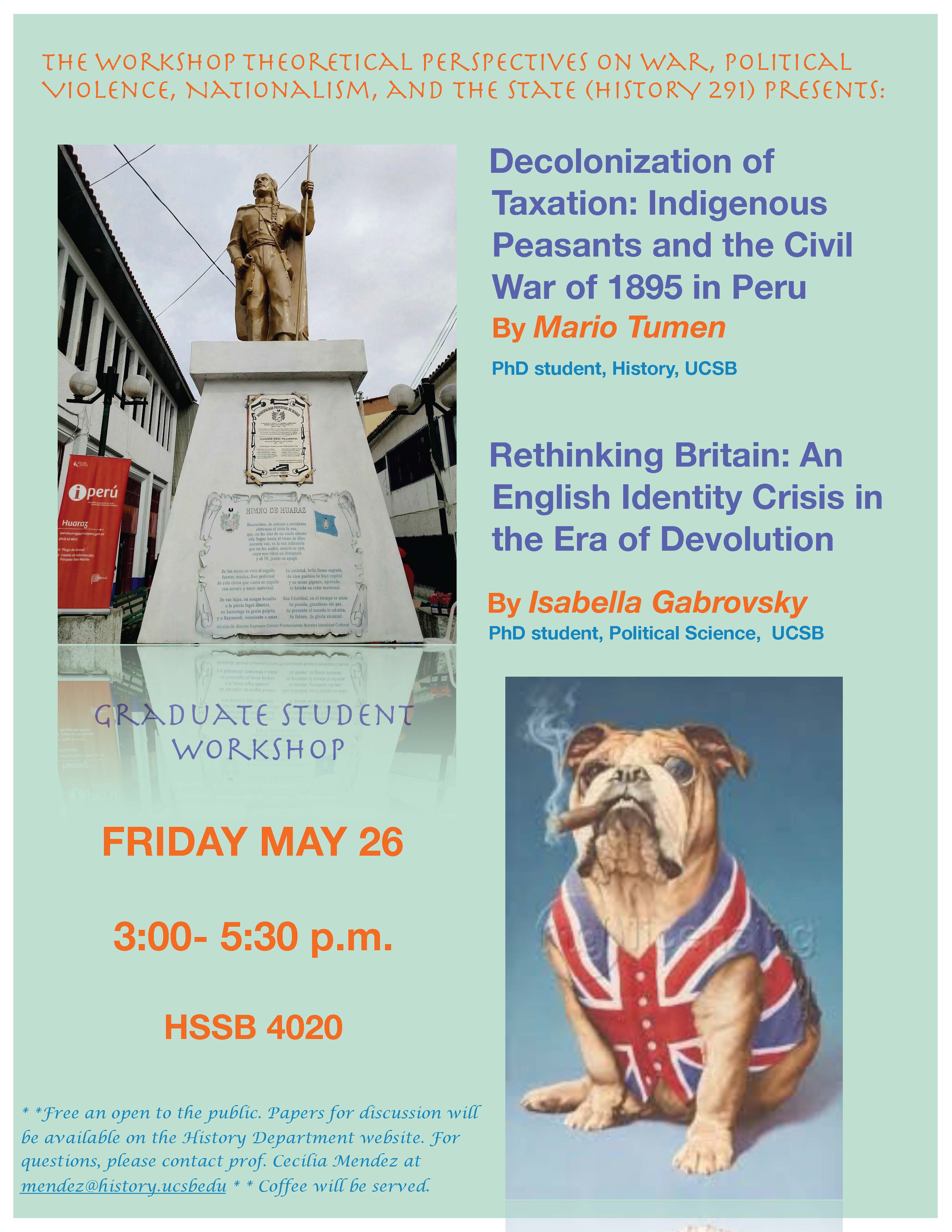 The Workshop on Theoretical Perspectives on War, Political Violence, Nationalism and the State (History 291)  is pleased to invite you to its final open presentation and discussion this Friday May 26 from 3:00 to 5:30 pm  in HSSB 4020.  Two graduate students, Isabella Gabrovsky and Mario Tumen, will be presenting their work in progress on Britain and Peru. Please, join the conversation. Their papers can be downloaded from the links below.  Everybody is welcome!
"Rethinking Britain: An English identity Crisis in the Era of Devolution."
By Isabella Gabrovsky. PhD student, Political Science Department, UCSB.
This paper (Gabrovsky Rethinking Britain rev) seeks to explore the rise of nationalist movements in the UK, how they differfrom the global rise of the far-right, and what changes in Westminster we might expect as a result. While the leftist Scottish National Party surged to become the second largest party in the UK, there has been a rise of right-wing nationalist groups in England such as the UK Independence Party. Analysis of historical context will shed light on how these two diametrically opposed political ideologies expanded simultaneously. This is seen in the psephological maps of the 2015 General Election and the Brexit referendum. The current political climate in the UK, where two separate nationalist movements are in power, is unprecedented and more importantly, unsustainable. The policies that arise during this time will determine not only what role the UK will play on a global stage, but also, if the UK will exist as a unitary state in the near future. There is a significant gap in the current political literature deconstructing the motivations behind these nationalist movements. This paper will address that void, asses the potential political ramifications, and provide possible policy prescriptions. Isabella Gabrovsky currently is a PhD student at UCSB in the Political Science department. She has previously worked in the Scottish Parliament.
"Decolonization of Taxation: Indigenous Peasants and the Civil War of 1895 in Peru"
By Mario Tumen. PhD student, History Department, UCSB
By looking at the civil war, or the "Revolution of 1895" as it happened in the department of Ancash, Peru, this essay ( Tumen, Decolonization of Taxation) analyzes the role indigenous peasants played in the abolition of the contribución personal, a tax they had paid since colonial times. Through war, they exercised their citizenship and influenced the distribution of power within the state. Yet, the largest peasant insurrection of the nineteenth century, the Atusparia Rebellion, had shaken social order in the department ten years before. I argue that resilient efforts to abolish the contribución personal in 8 Ancash date back to 1885 and continued in the period leading up to Revolution of 1895.
Everybody is welcome, please spread the word!
* * Coffee will be served.
For questions or comments, please contact prof. Cecilia Méndez at mendez@history.ucsb.edu
Related Events
Page last modified: May 24, 2017