Focal Point Dialogues | Keynote Address "Impossible Histories" | Ada Ferrer
May 27, 2022 @ 1:00 pm

-

3:00 pm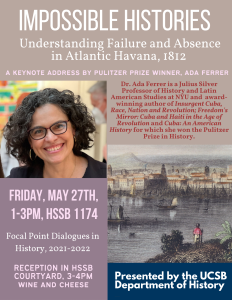 The History Department's Colloquium Committee warmly invites you to attend the final events of this year's Focal Point Dialogues in History Colloquium:
A  Keynote Lecture by Pulitzer Prize winning author Ada Ferrer, "Impossible Histories: Understanding Failure and Absence in Atlantic Havana, 1812". Friday May, 27th, 1-3 pm, in HSSB 1174  (free and open to the public, no registration required).
A Conversation with the author for graduate and undergraduate students following the keynote lecture reception, on Friday May 27th, in HSSB 4041 from 4-5 pm. To attend, please register using this form http://tinyurl.com/ucsbhistoryadaferrer
Focal Point Dialogues in History was an initiative born in 2020 as a Department commitment to educate ourselves in the history of anti-Blackness, in the aftermath of  the killing of George Floyd, and the national and international uprising it triggered. This education starts by understanding when did "blackness" become a thing, to begin with, and it requires leaving the "zone of comfort"  of our specializations, and dare to explore…as we learn from each other, and from this year's guest, Ada Ferrer. After an engaging dive into Herman Bennet's African Kings and Black Slaves: Sovereignty and Dispossession in the Early Modern Atlantic (2018) in the first iteration of Focal Point Dialogues in 2020-21, this academic year we focus on Ada Ferrer's Freedom's Mirror: Cuba and Haiti in the Age of Revolution (2014), The book can be downloaded here (You will need to have logged into your UCSB library account)
Ada Ferrer is a Julius Silver Professor of History and Latin American and Caribbean Studies at NYU, and the author of several major award-winning books, including Cuba, an American History (2021) winner of the Pulitzer Prize.  Her book Freedom's Mirror: Cuba and Haiti in the Age of Revolution (2014) received the Frederick Douglass Book Prize from Yale University, and several major American Historical Association awards, among them: the James Rawley Prize for the best book on Atlantic History, the Wesley Logan Prize for the best book in the History of the African Diaspora, the Friedrich Katz Prize for the best book on Latin American History, as well as the Haiti Illumination Prize from the Haitian Studies Association, among others. Her first book, Insurgent Cuba, Race, Nation, and Revolution (1999), was the recipient of the Berkshire Book Prize for the best first book by a woman historian in any field of history. Her research has been funded by major grants, including the SSRC, the NEH, the Guggenheim, the Spanish Ministry of Culture Fellowship, and the Consejo Superior de Investigaciones Científicas.  
**Use of masks will be required to enter the classrooms. For questions write to Prof. Cecilia Méndez at mendez@history.ucsb.edu
Related Events