Douglas H. Daniels
---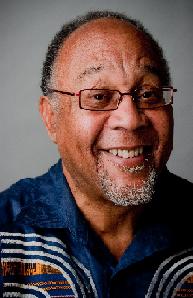 Douglas H. Daniels
Professor Emeritus
Ph.D., University of California Berkeley, l975
Area:
African American History, History of Jazz
Email:
Modern United States History
African American History
African History
Berkeley's Civil Rights Movement
History of Jazz in the Pacific World
"Berkeley Apartheid: Unfair Housing in a University Town," History Research, Vol. 3, No. 5, pp. 321-341
One O'clock Jump: The Unforgettable History of the Oklahoma City Blue Devils (Beacon, 2006)
Lester Leaps In: The Life and Times of Lester "Pres" Young (Beacon, 2002)
"Los Angeles Zoot: 'Race Riot,' the Pachuco, and Black Music Culture," The Journal of Negro History, Vol. 82 (Spring 1997), pp. 201-220
"A Conversation with Harry 'Sweets' Edison" (50 minute videotape, UCSB Kerr Learning Resources, 1996)
Charlemagne Péralte and the First American Occupation of Haiti
translation of Charlemagne Péralte: Un Centenaire, 1885-1995 by Georges Michel (Dubuque: Kendall-Hunt, 1996)
Peoples of Color in the American West (ed. with Sucheng Chan, et. al.) (D. C. Heath and Co., 1993)
Pioneer Urbanites: A Social and Cultural History of Black San Francisco (Berkeley, University of California Press, 1991) (paperback)
History 169AR: Afro-American History (Colonial)
History 169BR: Afro-American History (Nineteenth Century)
History 169CR: Afro-American History (Twentieth Century)
History 169MR: History of Afro-American Thought
History 169P: Proseminar in Afro-American History
San Francisco African American Historical and Cultural Society Keynote Speaker Award (2005) for Pioneer Urbanites
Fulbright Fellow, African Regional Research Program (Kenya and Tanzania).
Fulbright Fellowship for teaching African American History and the History of Jazz and, also, for researching the history of jazz in Japan.
Consultant, NEH
Consultant, National Museum of African American Music
Consultant, Carnegie Hall
Consultant, National Endowment for the Humanities.