Public Historical Studies Colloquium Schedule 2020-2021
SPRING 2021
JUNE 4, 12:00-1:30: Telling Diverse Stories: The National Park Service Women's History Initiative and Collaboration in Historic Preservation
---
Christopher E. Johnson, Historian, NPS Preservation Partnership Programs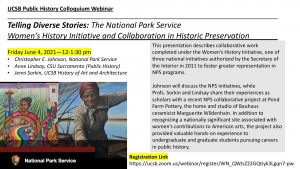 Anne Lindsay, Public History, CSU Sacramento
Jennifer Sorkin, History of Art and Architecture, UCSB
This presentation describes collaborative work completed under the Women's History Initiative, one of three national initiatives authorized by the Secretary of the Interior in 2011 to foster greater representation in NPS programs.
Johnson will discuss the NPS initiatives, while Profs. Sorkin and Lindsay share their experiences as scholars with a recent NPS collaborative project at Pond Farm Pottery, the home and studio of Bauhaus ceramicist Marguerite Wildenhain. In addition to recognizing a nationally significant site associated with women's contributions to American arts, the project also provided valuable hands-on experience to undergraduate and graduate students pursuing careers in public history.
Register: https://ucsb.zoom.us/webinar/register/WN_QWJsZ22GQtiyk3Lgqn7-pw
Recommended web links:
Heritage and History Initiatives – National Historic Landmarks (U.S. National Park Service) (nps.gov)
Women's History (U.S. National Park Service) (nps.gov)
crm-v20n3.pdf (npshistory.com)
Explore Suffragist Stories and Connections (arcgis.com)
https://stewardscr.org/pond-farm-pottery/
PAST WEBINARS:
SPRING 2021
APR 9, 12:00-1:30: Presenting the Medieval Mediterranean: Museums and Archaeology in National Discourse
---
William Tronzo, History of Art, UCSD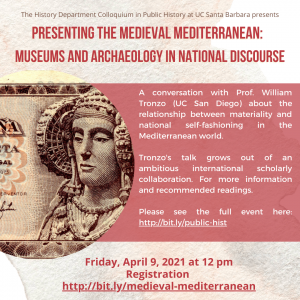 From time immemorial, material artifacts have played an important role in political discourse: think simply of the use of the crown (in the United Kingdom) or the throne (for example, the throne of St. Peter in the Roman Catholic Church) in the process of national or institutional self-identification. Over the course of several years, William Tronzo co-directed a collaborative project with Kimberly Bowes (University of Pennsylvania) and an international group of scholars funded by the Getty Foundation and housed at the American Academy in Rome. In this colloquium session, Tronzo describes the project and goes deeper, considering some of the ways in which this relationship between the realms of materiality and discourse ramified with regard to the modern period in the nations that form the Mediterranean world. Looking at objects, texts, and whole sites, Tronzo offers a number of case studies of such national self-fashioning, negotiated and managed through archeology, collecting, display and translation, and set to work within discourses that embrace narrative and ritual.
Register: http://bit.ly/medieval-mediterranean
MAY 7, 12:00-1:30: The Queerness of Home: Public History and the Domestic Archive
---
Stephen Vider, Dept. of History, Cornell University
Histories of queer and trans politics and culture have centered almost exclusively on public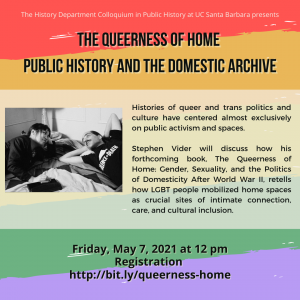 activism and spaces. Stephen Vider will discuss how his forthcoming book, The Queerness of Home: Gender, Sexuality, and the Politics of Domesticity After World War II (University of Chicago Press, October 2021) retells LGBT history from the inside out, revealing how LGBT people mobilized home spaces as crucial sites of intimate connection, care, and cultural inclusion. He'll focus particularly on the challenges and possibilities of uncovering queer domestic life both in The Queerness of Home and in his 2017 exhibition, AIDS at Home: Art and Everyday Activism (Museum of the City of New York)—and how a focus on the domestic archive can reshape methods in public history.
Register: http://bit.ly/queerness-home
WINTER 2021
JAN 15, 12:00-1:30: Public Lands, Public History: Putting History to Work for the United States Forest Service
---
Leisl Carr-Childers and Michael Childers, Colorado State Univ (Ft. Collins)
(Jt Session with Science/Technology Colloquium)
Childers and Carr Childers will discuss their current project, a new history of the USDA Forest Service from 1960-2020, and the historical methodologies that undergird their work. In particular, they will address what it means to work in applied history, how applied history works (or does not work) with regard to public lands management agencies, and how public history, applied history, and working as a public intellectual speaks to history taking a public turn.
Register: https://ucsb.zoom.us/webinar/register/WN_Wty4lxPTR-eCkgVxoKfSYQ
FEB 5, 12:00-1:30: Reinterpreting Slavery and the Emotional Labor of History
---
Hilary Green, Univ. of Alabama
Prof. Green reflects on the powerful legacy of Jim Crow era efforts to erase the history of slavery from the landscape of her workplace, the University of Alabama, and shares a project she pursued to rewrite this historical narrative. She researched, designed and implemented a campus tour to tell the actual history of slavery and enslaved workers in the University's past. She collected oral tradition and pursued deep archival research, to historicize "the experiences, activism and collective memories of African American men, women and children," and describes her efforts to get the campus community to rethink its understanding of the past, even as an untenured member of the faculty. Her project exposed the racist structures undergirding the University Archives; it highlights the tenacity of older narratives and exposes some of the physical and psychological burdens of this sort of historical recuperation for the practitioner. All this unfolded in the larger social struggle over historical monuments and commemoration in recent months. As Green writes, "when exploring the racial history of one's employer, the Jim Crow era archival project of white supremacy is no longer an abstract concept read about only in scholarship."
Register: https://ucsb.zoom.us/webinar/register/WN_yzLVlQ62QNGv7sZz1DenDA
MAR 5, 12:00-1:30: Abina and the Important Men: Graphic History as Public History
---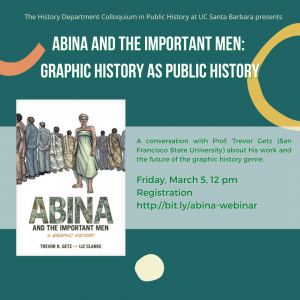 Trevor Getz, San Francisco State Univ.
Abina and the Important Men began as an attempt to address a classroom problem: how to teach students about the dual responsibilities of the historian to historical subjects and contemporary audiences.  These goals both drove its development as a graphic history.  Fortuitously, its publication caught the leading edge of the rehabilitation of that medium as a serious scholarly mode of communication. This great graphic shift is part of a wider realignment of both the history discipline and popular culture, and it provides both opportunities and pitfalls for the scholar who wishes to share their work with a broader public while retaining its authenticity and maintaining its accuracy.  This is a discussion by the author of Abina and the Important Men about what he has learned since its publication in first edition in 2012, with some arguments about the future of the graphic history genre. The graphic novel can be obtained through the Oxford University Press website, or the community-built 2-D animated video version can be watched here (Password: Independence).
Register: http://bit.ly/abina-webinar
FALL 2020
OCT 9: Decolonizing California through Critical Mission Studies: The Reclaiming Homelands Project
---
Ami Admire, Director, Rincon Youth Storytellers, Amrah Salomón J., President's Postdoctoral Fellow (English) UC Riverside, and Ross Frank (Ethnic Studies) UC San Diego
Admire and Salomón will speak about an intergenerational cultural revitalization project bringing youth and elders together to revitalize Indigenous knowledge and training indigenous youth in conducting historical research to reclaim indigenous place names among the Kumeyaay, Payomkawichum (Luiseño), and Cupeño communities. Frank will contextualize this project within the larger collective of Critical Mission Studies, a multi-campus research effort at the University of California.
---
NOV 6:  In the Spaciousness of Uncertainty is Room to Act: Public History's Long Game. Marla Miller, Univ. of Massachusetts, Amherst
Taking her title from Rebecca Solnit's Hope in the Dark, an exploration of the long arc of historical change, Miller engages with students and the public around the ideas, questions and new directions posed in this address to the National Council for Public History, public history's major professional organization. Miller is a historian of labor, gender and material culture prior to the industrial revolution and is the NCPH's immediate past president.  She is the author of many books, including Betsy Ross and the Making of America and Entangled Lives: Labor, Livelihood and Landscapes of Change in Rural Massachusetts. Her research, teaching, publications and consulting engage North American material culture, museum and historic site interpretation, historical interpretation in the National Park Service, and the teaching of public history. 
For more info and a list of publications, see https://www.umass.edu/history/member/marla-miller
Register for WEBINAR: 
https://ucsb.zoom.us/webinar/register/WN_1XZsV27EQqqR-WKyeMn_pQ
Recommended Reading: 

Marla Miller, "'In the Spaciousness of Uncertainty is Room to Act': Public History's Long Game," The Public Historian 42: 3 (August 2020): 10-32.

 
DEC 4: Pride of Place: LGBTQ Public History in the United Kingdom
---
Justin Bengry, Goldsmiths, University of London
Bengry will present a major crowd-sourced public history project he helped develop.  Pride of Place maps sites of LGBTQ history in the United Kingdom.  Bengry set the project in context of the state of LGBTQ public history in the UK. A UCSB alumnus, Bengry is a historian of sexuality and capitalism who chairs the first MA in Queer History at Goldsmiths, University of London.