IHC Talk: Utathya Chattopadhyaya, "Cannabis and South Asia"
March 9, 2021 @ 4:00 pm

-

6:00 pm

Free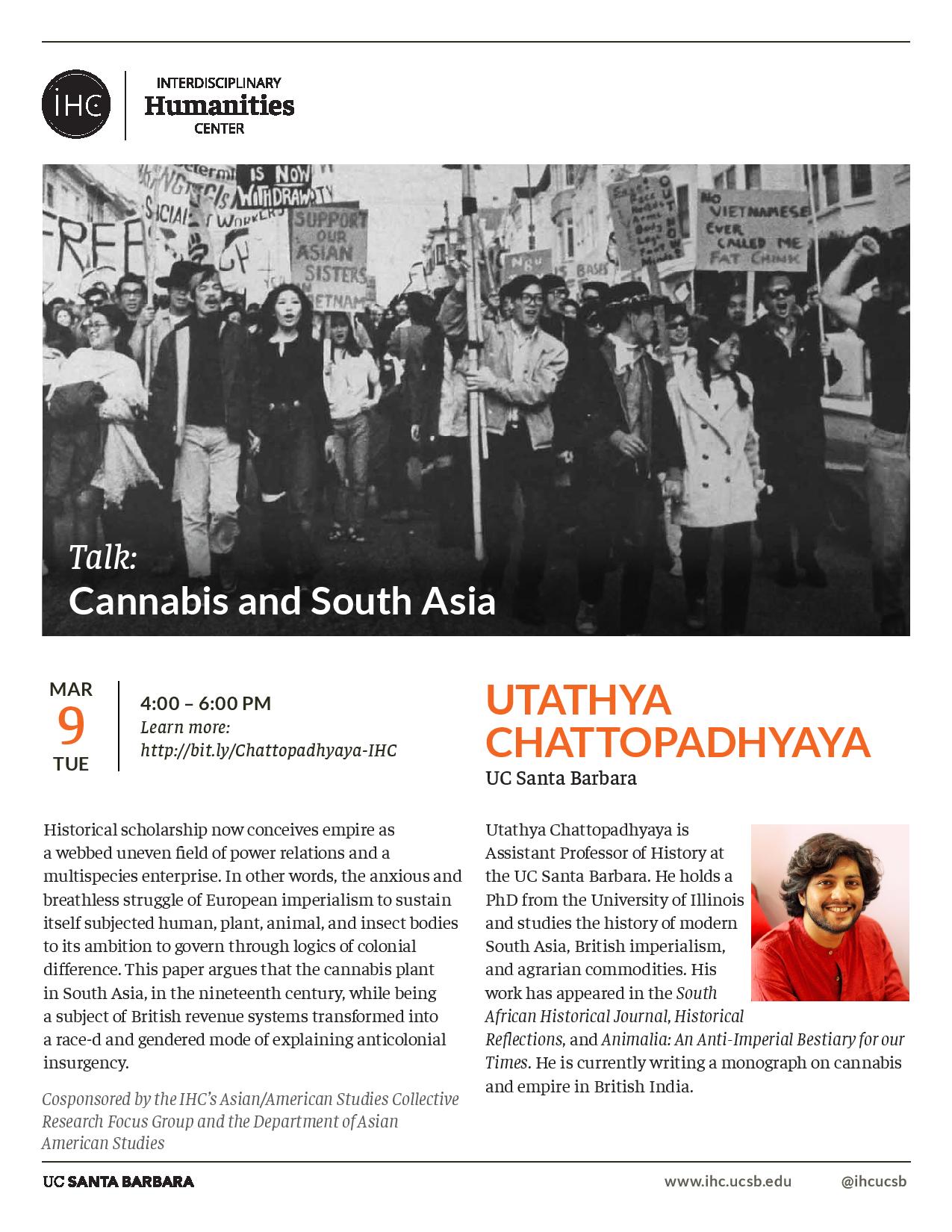 The IHC's Asian/American Studies Collective welcomes UCSB History professor Utathya Chattopadhyaya for a talk on the role of cannabis in South Asian experiences of empire.
Historical scholarship now conceives empire as a webbed uneven field of power relations and a multispecies enterprise. In other words, the anxious and breathless struggle of European imperialism to sustain itself subjected human, plant, animal, and insect bodies to its ambition to govern through logics of colonial difference. This paper argues that the cannabis plant in South Asia, in the nineteenth century, while being a subject of British revenue systems transformed into a race-d and gendered mode of explaining anticolonial insurgency by South Asian rebels. The intoxicating substance of the plant, in the discursive logic of empire, was seen to vitiate Asian bodies against European power. Cannabis also animated other imperial operations like the delegitimization of Indian sovereignty. Using the expansive reach of imperial periodical culture in the nineteenth century, this paper highlights the Asian and global contexts within which cannabis became an alibi for rebellion or violence against empire.
Utathya Chattopadhyaya is Assistant Professor of History at the UC Santa Barbara. He holds a Ph.D. from the University of Illinois and studies the history of modern South Asia, British imperialism, and agrarian commodities. His work has appeared in the South African Historical Journal, Historical Reflections, and Animalia: An Anti-Imperial Bestiary for our Times. He is currently writing a monograph on cannabis and empire in British India.
This event will be held on Zoom at https://ucsb.zoom.us/j/81976204749?pwd=ekZ2UUtFd0U0Znh6bFpIcXFXWUs5QT09.
Related Events